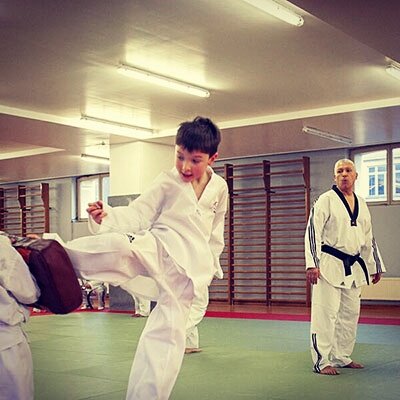 Participate in 3 free courses 🙂
Children's courses
One of the main goals of the club is the education of the children.
Our courses are given according to the age and development of each child.
Taekwondo
improves physical strength
increases suppleness, agility and flexibility
develops coordination and a sense of balance
gets to know and control the body
soothes and gives confidence to more shy and introverted children
teaches the values of tolerance, solidarity, loyalty, humility,…
encourages concentration


Come with your child to discover 3 free courses.
In the South Palace, 3 street Roger van der Weyden, 1000 Brussels
Monday
Children (4 to 6 years) – 6H00 to 6H45 pm – Gym room A
Minimes & Cadets (7 to 14 years) – 06H00 to 07h00 pm – Budo room
Wednesday
Minimes & Cadets (7 to 14 years) – 06H30 to 07H30 pm – Gym room A
Friday
Children (4 to 6 years) – 05H30 to 06H30 pm – Budo room
Minimes & Cadets (7 to 14 years) – 06H30 to 07H30 – Budo room
Sunday
Children (4 to 6 years), Minimes & Cadets (7 to 14 years) – 03H30 to 04H30 pm – Budo room
In the Sportcomplex De Bres, Monsignor Senciestraat 13, 1500 Halle
Tuesday
Kids (4 to 6 years old), Minimes & Cadets (7 to 14 years old) – 6 to 7 pm – Budo Room
Thursday
Kids (4 to 6 years old), Minimes & Cadets (7 to 14 years old) – 6 to 7 pm – Budo Room