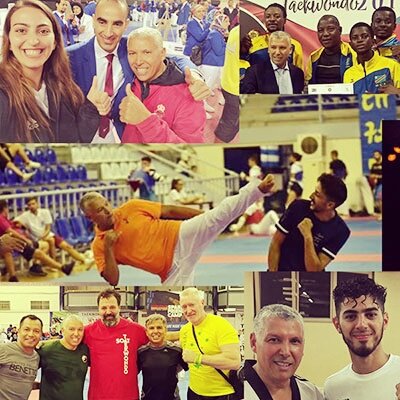 Moustapha Akkouh 
A life for youth, athletes and Taekwondo development.
Pioneer of Taekwondo in Belgium, master Moustapha Akkouh has been involved in Taekwondo development for more than 40 years.
As trainer of several generations of black belts and international champions, he has developed this sport in Belgium thanks to his 2 clubs in Halle and in Brussels.
His training has enabled several dozen Belgian and international champions to express themselves at the highest world level, in particular at the Olympic Games, the World Championships, the European Championships, the African Championships…
We can especially mention Abdelkader Zrouri, vice-world champion in 2005 and Abdelkrim Hohoud, vice-European champion in 2002.
Recognized as one of the 20 best coaches in the world during the 1st coaching session of the World Taekwondo Federation in 2019, he works daily on training young people.
Many countries and federations appeal to his sports science, in particular: Belgium, Morocco, Senegal, Niger, Democratic Republic of Congo, Chad…
As an international expert, he has promoted Taekwondo in his adopted country Belgium by organising the Indoor Brussels Open for the past 20 years, a competition that welcomes athletes from all over the world.
He has also worked for sports in his country of heart, Morocco, by organising training courses and championships such as the Oujda Open.
Every year he organises several major European training courses welcoming young world champions from all over the world in Greece, Spain, Italy,…
It also participates in development cooperation by organising regular seminars in many African countries.
Today, he continues to teach taekwondoes to children and athletes so that they can reach their full potential in a satisfying and balanced life.